Sylvia,
I first want to start off with a HUGE THANK YOU! You and your team invested a lot of time and care into planning our wedding and making our day perfect. You were a breeze to work with you and you made my life as a bride very easy and stress free. You communicated effectively and in a timely manner and I appreciated that your info was HONEST, and not necessarily monetary driven. It was easy to trust you in that you knew what I wanted and that you would do whatever you could to make that happen, very much like a member of the family. The villa was perfect for our own little family compound and we had a wonderful time there! The food was outstanding and our chef Guido, was not only a great chef, but fun and entertaining!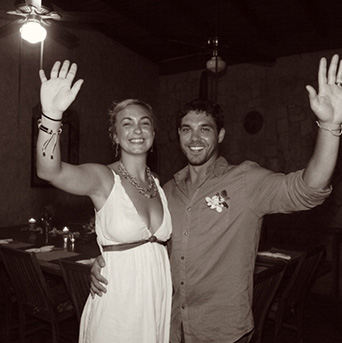 As for the "Big day", It was an absolute dream come true. I wasn't sure what to expect but knew you would do a great job and that you did! It was PERFECT! The flowers blew me away and was probably one of my favorite things about the whole day! And that is saying a lot because I never thought I was a flower-kind-of-girl! But I still get chills and giggly when I think of those orange lillies, contrasting with the green placemats on the wood table, I LOVED IT! Not to mention my Bouquet i just adored as well. It was very "me" You and Sophia did a wonderful job decorating at the beach and the music was great!. The ceremony represented us and who we are as a couple very much. It was very intimate and special. There were even a few of the beach by-standers that were in tears after the because even they were so touched! That made me start to cry too and I dont even know them! lol– Carolina did a fabulous job and I loved the knot tying ceremony that she introduced us to. In fact, KNOTS became a theme of our wedding (Tony and I both wear knotted thread bracelets in representation of each for the past 7 years and my dress even had a KNOT theme as well. I didn't even realize all these coincidences until the evening BEFORE the wedding! haha….its like it was a dream all falling into place! I kept waiting to get nervous and I never did, I knew everything was taken care of thanks to you and just had a zen sense of calm bliss. I am so glad that you and your family could stay and hang out a bit for the "reception". You guys all felt like family to us and we do look at you as our family in Costa Rica, in fact, I even started referring to Jorge as "mi tio" and uncle Jorge towards the last few days of the trip. My mom wanted to take him home so we could show HIM a good time in United States in return for taking such good care of us! Speaking of Jorge, the trip would not have been what it was without him! He put everyone at ease, even those in our family who haven't traveled much before, from the time he picked us up from the airport, we knew we were in good hands! He was very personable, knowledgable and very funny! My family LOVED him! He was always ready to go where ever, WHENever and man, did he keep that car clean! My dad (a clean car nut himself) even commented on that fact, especially the floors! We trusted Jorge on where to go (not just the generic touristy place either), some really interesting "off the beaten path" places, which is much more our style. He even escorted 'The mothers" outside when they went on their smoke breaks and was a wonderful translator for them…..and all of us for that matter! He even drove us down to the National park and hung out and waited for us at the end by the beach so we could do an impromptu hike on our wedding day morning. Since he knew some of the locals (which comes in handy!) he got the scoop on a movie that was being filmed there while we were there! Pretty cool! WHat a GUY that Jorge!!!!!! We all loved uncle Jorge!
It was great to have you all there as family during our special week, especially since my dad was pretty sick most of the week and not having him around was a little tough on the dynamic. Everyone had great postiive energy which put all of us at ease. Thank you again for your help with the pharmacy and Jorge as well! We began to get a little worried about my dad after being sick for quite a few days, getting dehydrated and being diabetic.
We loved our tours! The ATV tour was sooo much fun, and something the whole family could do and enjoy! It was also very informative and interesting to see the african palm oil plantations. The sea Kayak was a great time as well and snorkeling was probably my favorite moment of the whole trip besides the wedding of course! I have been wanting to swim with the fish since I was 4 years old and have dreamt about it many times, and it exceeded my expectations! The canopy zipline tour was pretty awesome too! The staff there was nice, helpful, friendly, professional and safe! And we had an amazing lunch there after! In fact ,we had amazing lunches after all of our tours! That was one of my favorites parts as well, was anticipating the great meal that comes! It made the experience much more special and personal. The massages were a big hit and I think one of the BEST decisions made all trip! =) Priscilla did a great job at the bridal party and the day of the wedding as well! She made me feel beautiful, without dolling me up too much. She read me and my personality very well and did a wonderful job polishing me up. Also Antonio was a great Photographer! He made us feel comfortable and confident in front of the camera, and that is saying a lot because I hate to have my picture taken. He was creative and got some great pics of me in my dress in the ocean! And some good ones of us out on the rocks on the beach. I saw some preview pictures that he sent me before he mails us the disc and they look amazing!! I was gonna send you a couple pics if you want and you can use them for your references if you want to, or need them.
No complaints except for the i-pod hookup not working all week in the house, the house manager said he would look at it and fix it but never did. We are very music centered family and that would've made the stay much more memorable especially the nights spent in the game room! The only other thing I regret is forgetting the gift the chef had made especially for us! He even made a special delivery the day after the wedding to drop off a picture of him, Tony and I from our wedding night that was put onto a mug as a forever keepsake. I was frazzled the morning we left, and left it on the counter in a white box and forgot about it until we were half way to San Jose! I felt horrible and guilty that I was so careless with something that came from such thought and care! Jorge called the villa from the car to tell the maids that if they find it, to drop it off at Ricky's office and he would pick it up and send it to me, but it looks as though it was never recovered =( That would have been a wonderful keepsake of that amazing night and now its gone forever. That is my only regret.
All in all I wouldn't have changed anything, and could not have done it better myself! You and your family did a fabulous job and it wouldn't have been the same without you. You now have family in United States and we will be coming back to Costa Rica soon to see our new "family soon'. Tony and I are already talking about setting up an anniversary trip back to Costa Rica and will be sure to let you and Jorge know when that happens! We are all very thankful for your assistance on our trip and Tony and I are very grateful for you and making our wish come true! PURA VIDA! See you soon!
With love,
Courtney and Tony Catalino