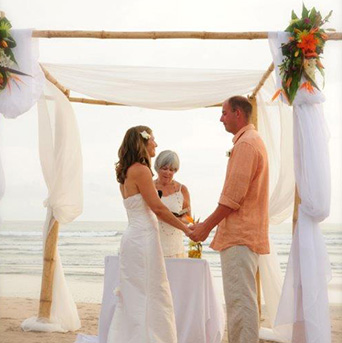 As I said in my letter, I have been trying to come up with the right words to say, but there are no words. You did an outstanding job and I couldn't have asked for anything better. The wedding was amazing thanks to you. I have never had a better experience working with someone. You are so calm and nothing gets to you.
You pay such close attention to detail and you listen to everything that is said.
Everything was perfect! Matt and I are so pleased and lucky to have found you and to be able to work with you!
We really were pleased with all your vendors.
The flowers were amazing. The florist did a great job. The decorations were perfect as well.
The rentals were great and I really liked the beach setup. It was so beautiful. The linens were really pretty.
The dj did a good job. Everyone was dancing.
Thank you Sylvia. I hope that we see each other again. The next time we come to Costa Rica, we will try to meet up with you.
I hope that I will have the opportunity to recommend you to someone in the future.
Thank you again.
Kendall and Matt